1、Foamed Ceramic

● Foamed ceramics are produced by smashing and sintering ore materials with ceramics composition in them.
● In the products there doesn't exist disadvantage of conventional wall materials, and it is the new generation of green, safe and economic building material.
● It services as a key part for the state to develop new prefabricated buildings.
● Raw material → Assortment → Mixing → Placement → Preheating → Sintering → Cooling → Cutting.

2、 Performance and Advantages
Performance of Foamed Ceramic
---
Fire-proof: grade A1 non-flammable inorganic insulation materials, wall materials;
Low Thermal Conductivity :0.05-0.085w/m.k, excellent heat preservation and thermal insulation effect;
Light :thermal insulation board volume weight 150-280 kg/m3, wall material volume weight 400-600 kg/m3;
Sound Insulation: good sound insulation effect, 80 mm inner partition board sound insulation (≥ 37 decibels), composite board sound insulation (≥ 45 decibels);
Excellent heat & shock resistance: no distortion, no ageing, no cracking, no pulverization, stable performance in harsh weather conditions such as sun exposure, drastic changes in cold and heat, wind and rain; salt and alkali resistance, corrosion resistance;
Hanging force: higher than the national technical standards, adequate for hanging;
Good compatibility: good compatibility with cement mortar and concrete, reliable bonding;
Easy to Process: easy to cut, punch, slot, bond;
Convenient and Economical Construction: simple construction to improve efficiency and reduce comprehensive costs;
Green Environment-friendly: zero pollution, recyclable use, no garbage;
Radioactive indicators satisfy the national technical criteria.
Advantages of Matrass Products

---
Raw materials: The tailings of Dawudian graphite ore are natural foamed ceramic raw materials after beneficiation without assortment;
Mass Production Advantage:production capacity of 7 million m3 per year;
Processing:using Dawudian tailings, no need for beneficiation and grinding, saving the cost;
Electricity:The project enjoys preferential electricity price: 0.26RMB/kWh;
Taxation: Comprehensive utilization of tailings is exempt from environmental taxes;

Innovative Technology:innovative use of electric roller kiln in high degree of automation.

3、Applications
As one of the new materials for prefabricated building, foamed ceramic can be used as the main constituent of external wall, interior wall, floor and decorative wall facade. Large estate developers like Vanke, Biguiyuan, Wanda and Zhonghai etc. have ahead of others used foamed ceramic in new projects.

● thermal insulation, non-load-bearing external wall, interior partition wall, household wall, thermal insulation and waterproof of buildings;
● underground engineering with heat preservation, moisture-proof and water insulation;
● urban underground pipe project;
● filter material used in wastewater treatment plant;
● The function of "natural pumice" is widely used in denim factories, washing factories, printing and dyeing factories, etc.
● corrosion prevention and heat preservation in chimney, etc.
● Special technology is for open-cell foamed ceramic square brick, pavement brick, permeable brick, sponge city water storage function, etc.
● Specially processed foamed ceramics are for sound-proofing screen along high-speed railway, sound absorption square and other anti-noise projects.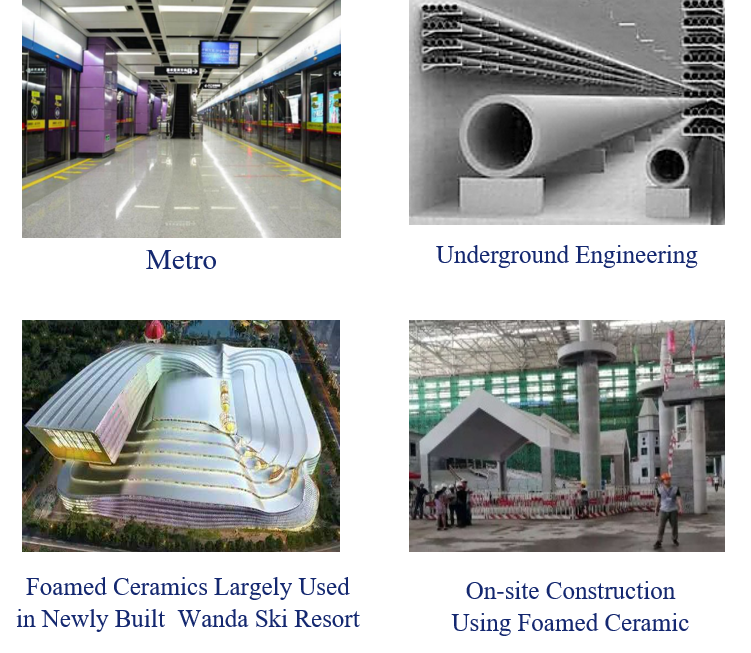 4、Parameter Comparison with Traditional Buildings